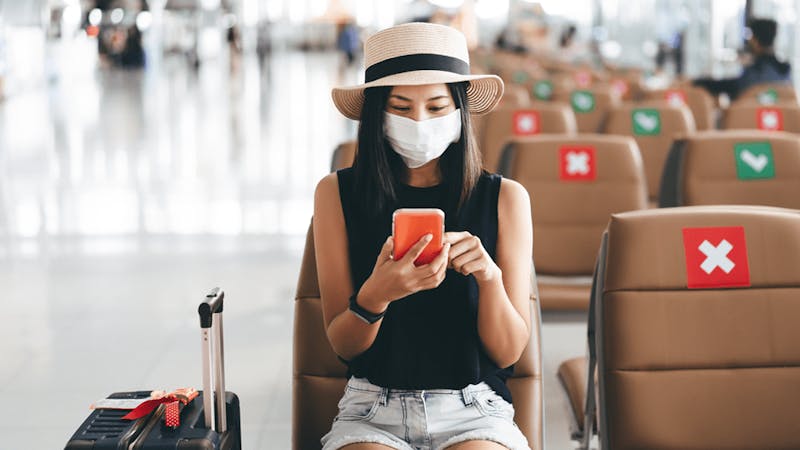 Stay Healthy During Summer Air Travel
Summer is here, and people are ready to travel! After a year of staying in, this summer may be one of the most traveled to date. Most of us are out of practice when flying the friendly skies, and some of us may be nervous about it. Here's how you can stay safe and healthy while in the air this summer.
Wear a Mask: We've been wearing them for over a year now, and we've come to find out that masks work. Not only does it help prevent the spread of COVID-19, but it also helps ward off colds and the flu.
Hydrate: Although you cannot get liquids past security, I always bring an empty water bottle and fill it from the water fountain once I'm through. Believe it or not, hydration can ward off the flu and other ailments. Mucous that lines the nose acts as a barrier, so pesky germs have difficulty making it through. When one is dehydrated, the mucous breaks down, which means you have a greater risk of getting sick.
Prep Before Take-off: Pretend your flight is a workout. Before we sweat it out, it behooves us to get plenty of sleep, stay hydrated, and eat a sensible meal. The same goes for flying. To add some extra insurance, load up on vitamin C a few days before take-off. Be super proactive and throw an orange in your carry-on for a mid-flight snack.
Sterilize It: Since the pandemic, plane crews have been vigilant about COVID cleaning guidelines, but extra precaution will set your mind at ease. Bring antibacterial wipes to cleanse the tray table, armrests, and seat before you settle in.
Stay Active: This holds true, especially for longer flights. Being stuck in the same cramped position for too long can cause blood clots to form, and that's a big no-no. Blood clots can dislodge and travel to the lungs, which causes pulmonary embolism and is potentially fatal. If your flight is 4 hours or longer, take a stroll up and down the aisle every hour or so. It's fun to watch people sleeping upright anyway.
Don't let the pandemic ruin your summer travel plans. Be prepared, and you are sure to have a healthy time in the air and at your destination. Celebrate the end of a very trying year.