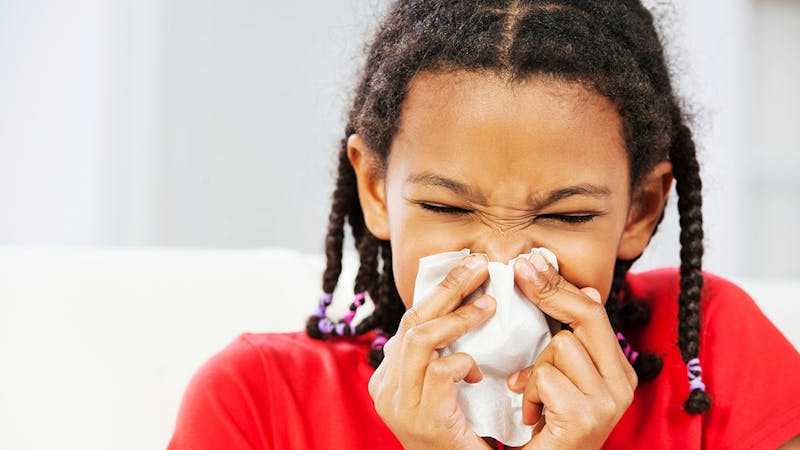 Why Is My Child's Nose Always Runny?
Chronic rhinorrhea is the medical term for "constant runny nose". This is very common in kids, but there is a wide array of causes from the very common to the very unusual.
What is "Rhinorrhea"?
"Rhinorrhea" simply means that there is fluid draining from the nose. It can be a wide range of colors and consistencies, from thin and clear to thick and colored.
What causes "Rhinorrhea"?
There are many things that can cause your child's nose to constantly be running. From common issues such as colds, the flu, sinus infections, allergic or non-allergic rhinitis to structural issues including enlarged turbinates, enlarged adenoids, congenital septal deviations, or choanal atresia. Then, there are the less common issues like nasal polyps, foreign bodies in the nose, or nasal cysts/tumors.
So, How Do I Know When To Be Concerned?
Usually if a runny nose lasts less than 10 days, it is not something to be concerned about. If the symptoms persist, however, that is where your ENT in Houston can be of help. Usually, they can differentiate between the various causes of rhinorrhea by listening to your child's specific symptoms, along with a physical exam in the office. Sometimes they may get additional information through a simple In-Office CT Scan, In-Office Allergy Testing or a quick look in the nose with a camera (Nasal Endoscopy). All of this testing is usually well tolerated, even by young children, and can allow us to give you immediate peace of mind, as well as treatment that can help your child, and you, feel better.
There's no need for you and your child to continue to suffer with that constant dripping nose! Use our Online Appointment Request to see a Board Certified Ear Nose and Throat Specialist in one of our 16 locations.
This article was provided by Dr. Ashley Wenaas.
Dr Wenaas sees patients in our Fairfield and North Cypress offices.