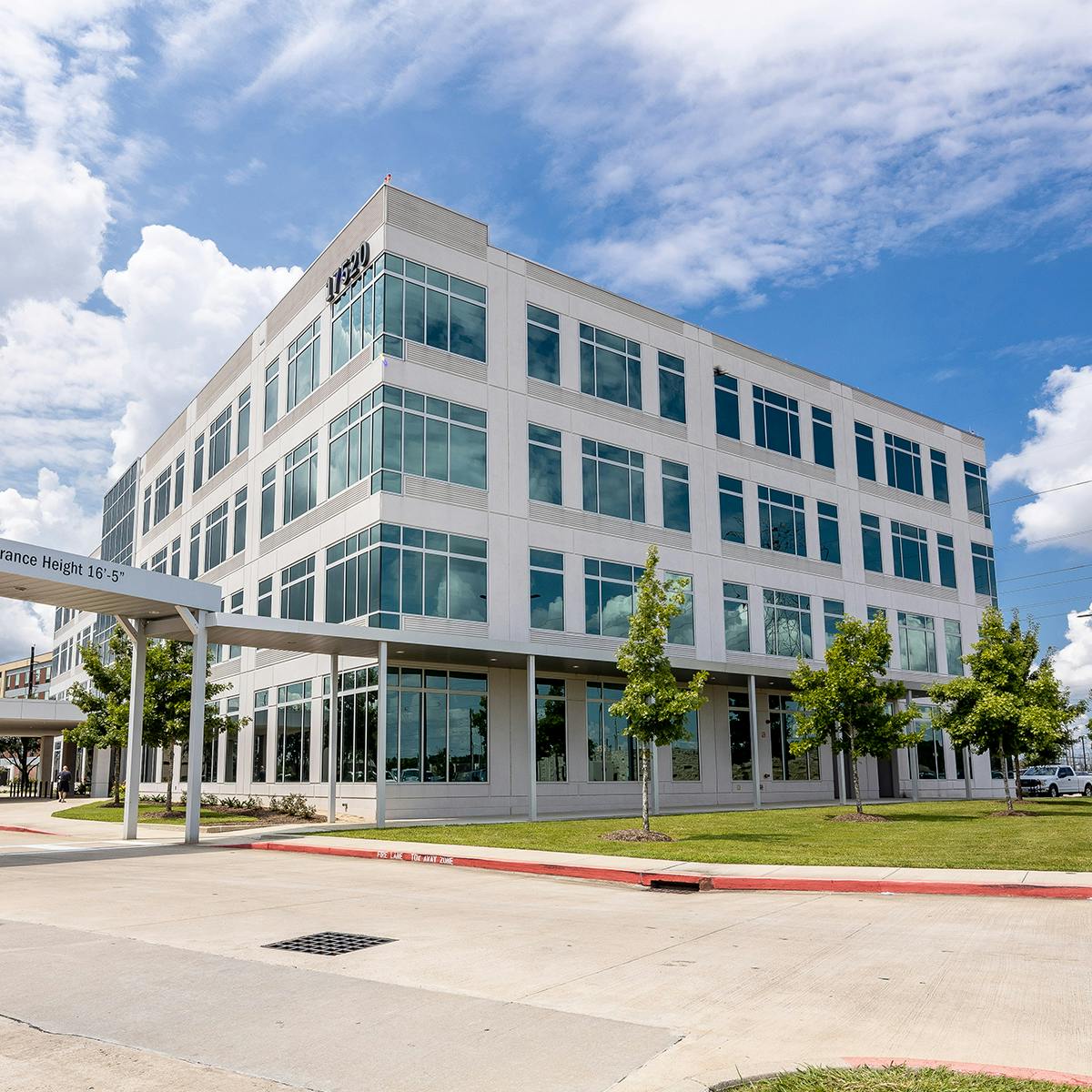 Back to search
Sugar Land
Dr. Brett Jensen is the ear nose and throat doctor in Sugar Land, TX who is dedicated to providing you with the best possible medical care in your community.
Our Sugar Land ENT office is conveniently located across from Riverpark Shopping Center at I69 and W Grand Parkway S.
17520 W Grand Parkway S., Ste. 440
Sugar Land, Texas 77479
Get Directions
Hours:
Monday – Thursday: 8:45am – 5pm
Friday: 8:45am – 4:30pm
---
Allergy
An allergy is the body's immune system responding to foreign substances in the environment. This response could be from foods, contaminants, or medications, to name a few. The staff at our Sugarland location can help with allergic reactions such as hives and eczema, environmental allergies, and asthma.
Environmental Allergy
Immune Deficiency
Asthma Management
Hives and Eczema
Sinus
The sinuses are cavities in the face that act as drains for fluids such as mucus. When they are infected, they can congest, drip, or cause the loss of taste and smell. The experienced staff at our Sugarland clinic can help patients who are experiencing any of these symptoms and patients with infections, fractures, or a deviated septum.
Sinus Infections
Loss of Sense of Taste and Smell
Nasal Fractures
Deviated Nasal Septum
Congestion (Nasal Blockage)
Nasal Drainage
Sleep
Sleep is crucial in maintaining good health. A good night of sleep is not only important to have a good day, but the effects of sleep on the body are significant. When it comes to sleep, disordered sleeping caused by snoring or apnea is not only bothersome to ourselves and our partners but can sometimes be dangerous.
Ear
Our ears are essential not only because they allow us to perceive the world around us but also because they help us keep our balance. An ear infection can be painful and can cause fluid to drain or even obstruct hearing. The staff at our Sugarland clinic are experts in helping with conditions such as ear infections, ear disorders, and dizziness.
Ear Infections
Dizziness
Complicated Ear Disorders
Hearing
In medicine, audiology is concerned with hearing. Our experts at the Texas ENT Specialists office in Sugarland are well-versed in treating patients with a wide range of hearing issues to help them find a solution that can work with their needs and lifestyle.
Head & Neck
There are glands and tissues in our heads and necks that sometimes become inflamed or infected, resulting in pain or discomfort. These could occur in the salivary glands, adenoids, or the thyroid gland. At our Sugarland office, we can address conditions including thyroid masses, neck masses, enlarged lymph nodes, or salivary gland masses.
Thyroid Masses
Neck Masses
Salivary Glands Masses
Head and Neck Cancers Evaluation and Treatment
Enlarged Lymph Nodes
Abnormal Parathyroid Glands
Chronic Tonsils and Adenoid Infections
Voice & Swallowing
Interference with vocal processes such as swallowing or speaking can be bothersome and an actual health concern that is important to address. Issues with voice and swallowing can include vocal tremors and/or spasms, hoarseness, difficulty swallowing, and vocal cord tumors.
Vocal Cord Tumors
Vocal Tremors and Spasms
Acid Reflux
Hoarseness
Difficulty Swallowing
Vocal Cord Nodules and Polyps
Facial Plastics
Our Sugarland surgeons can help patients reverse the clock back on aging. This is achieved by targeting sagging skin, wrinkles, and lost facial volume. Our surgeons can also help patients achieve functional improvement in their nose by straightening the septum and making breathing easier.
Facial Skin Laxity
Drooping or Sagging Eyelids
Excess Facial Skin
Wrinkles of the Face or Neck
Uneven Nose
Oversized Ears
Undefined or Overdefined Chin
Allergy
Allergies can range from bothersome to dangerous, impacting every aspect of day-to-day life. Texas ENT Specialists at our Sugarland location can help those experiencing allergies experience relief. Offering treatments such as allergy shots, drops, and a variety of other effective treatments, our specialists are here to help.
Allergy Drops
Biologic Testing
Food Allergy Testing
Drug Allergy Testing
Sinus
Sinus treatments offered at our Texas ENT Specialists Sugarland office can help patients find lasting relief. Our services range from treatments for chronic sinusitis to sinus surgery. We specialize in a vast array of treatments and are ready to help.
Septoplasty Deviated Septum Surgery
Nasal Turbinate Reduction
In-Office CT Imaging
Sleep
Texas ENT Specialists at our Sugarland clinic are experienced in addressing sleep conditions such as snoring and apnea. We offer treatments such as CPAP prescription and monitoring, sleep apnea testing, and sleep apnea surgery. Many people struggle with sleep. Our Sugarland office can help.
Evaluation of Sleep Apnea and Snoring
Airlift Procedure for Sleep Apnea
Prescribe and Monitor CPAP
Sleep Apnea Testing
Inspire Procedure
Sleep Apnea Surgery
Ear
Ears are prone to recurrent or chronic infections. This can cause constant pain and other more serious conditions. The experienced practitioners at our Texas ENT Specialists Sugarland clinic offer a variety of treatments to address any issues arising from ear infections. These include balance testing, ear tubes, wax removal, and ear hygiene, as well as eardrum repair. Contact us today to find lasting relief.
Ear Tubes
Ear Hygiene and Wax Removal
Repair of Eardrum Perforation
Balance Testing
Surgery for Chronic Ear Infections
Hearing
Our Sugarland specialists work with patients by evaluating hearing loss to find the underlying cause and the severity. We can then link patients to the treatment that will best work for them in finding a solution. This can include hearing aids, hearing loss surgery, or cochlear implants. Contact our office today to schedule a consultation.
Surgery to Repair Hearing
Hearing Aids Dispensing
Hearing Aids Programming and Maintenance
Hearing Testing
Cochlear Implants
Head & Neck
The services provided at our Texas ENT Specialists Sugarland clinic can help you find lasting relief. Our treatments include thyroid surgery, salivary gland surgery, head and neck cancer evaluation, and surgery, or adenoidectomy, to name a few. Contact us to connect with a specialist to address your needs.
Thyroid Surgery
Parathyroid Surgery
Endoscopic Inspection of the Throat and Voice Box
Salivary Gland Surgery
Tonsillectomy
Adenoidectomy
Head and Neck Cancer Evaluation and Surgery
Voice & Swallowing
The experienced providers at our Texas ENT Specialists office in Sugarland are equipped to address any of these issues and help you find lasting relief with treatments like vocal cord and voice examination, speech therapy, swallowing therapy, as well as other treatments for vocal disorders.
Vocal Cord and Voice Examination
Swallowing Therapy
Speech Therapy
Acid Reflux Testing
Facial Plastics
Facial plastic surgery includes treatments such as a facelift, neck lift, rhinoplasty, and non-surgical treatments include fillers. These are designed to refine and reshape your features in a way that helps reduce common signs of aging and restore a more youthful appearance. Contact our Sugarland office for more information on facial plastic surgery.
Facelift
Mini Facelift
Fat Transfer
Brow Lift
Blepharoplasty
Cheek Augmentation
Chin Augmentation
Neck Lift
Rhinoplasty
Otoplasty
Lip Lift
Providers at this location
Reviews
Dr. Jensen is a wonderful ENT.
He did a surgical procedure on me in his office. He made sure I was comfortable and informed me on what he was doing all throughout the procedure. He and his staff are excellent, and I am so glad I found them.