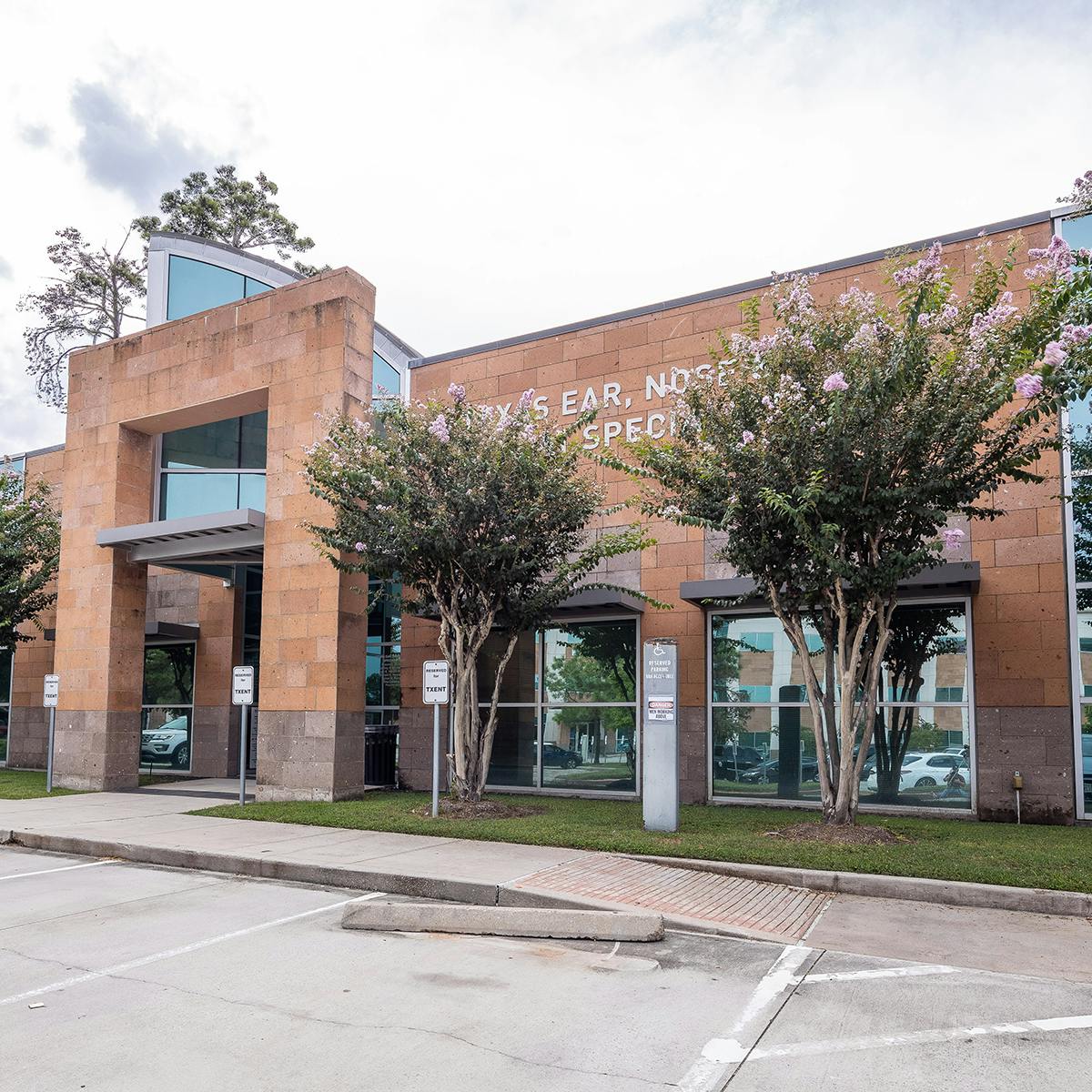 Back to search
The Woodlands
Our ear, nose and throat doctors in The Woodlands, TX are Dr. Rosalia Burke, Dr. Jeff Chimenti, Dr. Ryan Neilan, Dr. Don Newland, and Dr. Rance Raney are dedicated to providing you with the best possible medical care in the community where you live.
Our Woodlands ENT office is conveniently located at the intersection of Pinecroft and Medical Center Drive in Shenandoah.
Hours:
Monday – Thursday: 8:45am – 5pm
Friday: 8:45am – 4:30pm
---
Allergy
Allergies are the immune system negatively responding to something you have ingested. This could be a specific food, medication, or environmental factors such as pollen, dust, or pet dander. Our Woodlands allergy specialists can help those experiencing allergies, asthma, as well as hives, or eczema.
Environmental Allergy
Immune Deficiency
Asthma Management
Hives and Eczema
Sinus
The sinuses are small, hollow cavities found near the eyes and nose. Their walls are lined with mucus which helps to humidify the air we breathe in. The mucus in the sinuses can become backed up, resulting in pain or infection. Our Woodlands staff can help patients with their sinus concerns, including nasal fractures, deviated nasal septum, and loss of taste and smell.
Sinus Infections
Loss of Sense of Taste and Smell
Nasal Fractures
Deviated Nasal Septum
Congestion (Nasal Blockage)
Nasal Drainage
Sleep
A good night of sleep is vital to help you reset for the day ahead. Sometimes, sleep conditions can get in the way of this for you and your partner. Our Woodlands sleep specialists can help patients experiencing sleep disorders, including snoring and sleep apnea. Contact our office today for more information.
Ear
The ears help us hear and maintain our balance through a fluid found in the inner ear canal. Patients who are experiencing pain within the ears, changes in their hearing abilities, or have noticed themselves feeling off-balance, may have an underlying ear condition. This could include dizziness, ear infections, or other more complex ear conditions. Our Woodlands ENT providers specialize in diagnosing and treating a wide range of conditions that affect the ears.
Ear Infections
Dizziness
Complicated Ear Disorders
Hearing
Audiology is the area of Texas ENT Specialists that is concerned with hearing loss and difficulties. This is separate from our ear division and is focused on hearing loss. Our Woodlands audiologists can see patients experiencing any degree of hearing loss, including those with more profound hearing loss, and help work with them to find a hearing loss solution.
Head & Neck
The head and neck can experience a variety of unwanted conditions, including thyroid masses, neck masses, salivary gland masses, head and neck cancers, enlarged lymph nodes, abnormal parathyroid glands, and chronic tonsils and adenoid infections. Our Woodlands providers can help patients with these conditions find lasting relief.
Thyroid Masses
Neck Masses
Salivary Glands Masses
Head and Neck Cancers Evaluation and Treatment
Enlarged Lymph Nodes
Abnormal Parathyroid Glands
Chronic Tonsils and Adenoid Infections
Voice & Swallowing
Our voice and throat can be host to several conditions, including vocal cord tumors, vocal tremors and spasms, acid reflux, hoarseness, difficulty swallowing, and vocal cord nodules and polyps. These conditions can affect your speaking ability, lower or raise your pitch, and swallow easily. The specialists at our Woodlands location can help diagnose these conditions and recommend a comprehensive treatment path.
Vocal Cord Tumors
Vocal Tremors and Spasms
Acid Reflux
Hoarseness
Difficulty Swallowing
Vocal Cord Nodules and Polyps
Facial Plastics
Our Woodlands surgeons can help patients reverse the clock back on aging. This is achieved by targeting sagging skin, wrinkles, and lost facial volume. Our surgeons can also help patients achieve functional improvement in their nose by straightening the septum and making breathing easier.
Facial Skin Laxity
Drooping or Sagging Eyelids
Excess Facial Skin
Wrinkles of the Face or Neck
Uneven Nose
Oversized Ears
Undefined or Overdefined Chin
Allergy
The first step in allergy treatment is understanding the item you are allergic to. This is achieved through allergy testing, which can be performed at our Woodlands office. We offer food, medication, and environmental allergy testing to ensure we determine the source of your allergies. Once this is complete, we also offer treatments, including Asensa allergy drops, allergy shots, and biologic therapy to reduce your symptoms.
Allergy Drops
Biologic Testing
Food Allergy Testing
Drug Allergy Testing
Sinus
The sinuses can sometimes respond to at-home treatment but often require treatment by a specialist when conditions have become chronic or recurring. The Woodlands office of Texas ENT Specialists provides treatments including balloon sinuplasty, sinus surgery, and nasal turbinate reduction to help clear sinus blockages and help end chronic symptoms.
Septoplasty Deviated Septum Surgery
Nasal Turbinate Reduction
In-Office CT Imaging
Sleep
At Texas ENT Specialists, we can help patients experiencing sleep conditions. The sleep specialists at our Woodlands location offer sleep disorder treatments, including CPAP machines, sleep apnea surgery, and the AirLift procedure for sleep apnea. If you are interested in sleep treatment, contact us today.
Evaluation of Sleep Apnea and Snoring
Airlift Procedure for Sleep Apnea
Prescribe and Monitor CPAP
Sleep Apnea Testing
Inspire Procedure
Sleep Apnea Surgery
Ear
Ear treatment can range from simple in-office treatment to remove a build-up of wax to complex surgical procedures and everything in between. Our Ft. Lauderdale providers are experts in ear care and can help patients through treatments that include balance testing, ear tubes, repair of eardrum perforation, and the surgical treatment of chronic ear infections.
Ear Tubes
Ear Hygiene and Wax Removal
Repair of Eardrum Perforation
Balance Testing
Surgery for Chronic Ear Infections
Hearing
Our Woodlands audiologists are highly-experienced in helping match patients with the correct hearing loss solution for them. We offer numerous hearing loss solutions, including hearing aids, surgery to repair hearing, and cochlear implants for those with more profound hearing loss. Contact our office for more information on our hearing loss solution.
Surgery to Repair Hearing
Hearing Aids Dispensing
Hearing Aids Programming and Maintenance
Hearing Testing
Cochlear Implants
Head & Neck
When a gland or tissue found in the head or neck is experiencing an infection, inflammation, or cancer, it can cause side effects that can create an imbalance within the body. For patients looking for long-term solutions to their head and neck concerns, our Woodlands ENT providers offer a wide variety of care options, including surgical procedures to remove unwanted glands and masses, as well as treatment addressing cancer present in the head and neck.
Thyroid Surgery
Parathyroid Surgery
Endoscopic Inspection of the Throat and Voice Box
Salivary Gland Surgery
Tonsillectomy
Adenoidectomy
Head and Neck Cancer Evaluation and Surgery
Voice & Swallowing
Texas ENT Specialists Woodlands office can treat patients experiencing voice and swallowing conditions and find a treatment that offers long-term relief. Our specialists achieve this through specialized treatments that include vocal cord & voice examination, swallowing therapy, speech therapy, acid reflux testing, and treatments for complicated voice disorders.
Vocal Cord and Voice Examination
Swallowing Therapy
Speech Therapy
Acid Reflux Testing
Facial Plastics
Facial plastic surgery includes treatments such as a facelift, neck lift, rhinoplasty, and non-surgical treatments include fillers. These are designed to refine and reshape your features in a way that helps reduce common signs of aging and restore a more youthful appearance. Contact our Woodlands office for more information on facial plastic surgery.
Facelift
Mini Facelift
Fat Transfer
Brow Lift
Blepharoplasty
Cheek Augmentation
Chin Augmentation
Neck Lift
Rhinoplasty
Otoplasty
Lip Lift
Reviews
Dr. Newland is a fantastic ENT.
He did my sinus Surgery last week and I am very happy with him. He has great bedside manner and he takes his time during his appointments for you. I never felt rushed and he was through and knows exactly what he is doing. Would recommend to anyone!
Dr. Chimenti is the best ENT ever!
My special needs son has been going to him for over 15 years. I highly recommend him & his staff.
Great experience.
He explained things throughly for us and was able to treat my toddler successfully. We are grateful to have him as our ENT.
Dr. Burke has been my family's ENT for many years and they don't come any better than her.
She is extremely intelligent with one of the best bedside manners of any doctor I have ever met. I was relocated to Washington DC for a few years and would fly back for all ENT issues that came about, that's how much we value her as our doctor. We truly love her as our doctor and respect all of her opinions.
Dr. Neilan has been my ENT for several years.
He has done surgery on my sinuses, and has been very helpful. He is a professional and is at the top of his game. The doctor and the entire staff are polite and efficient. I've recommended them to my friends and family.