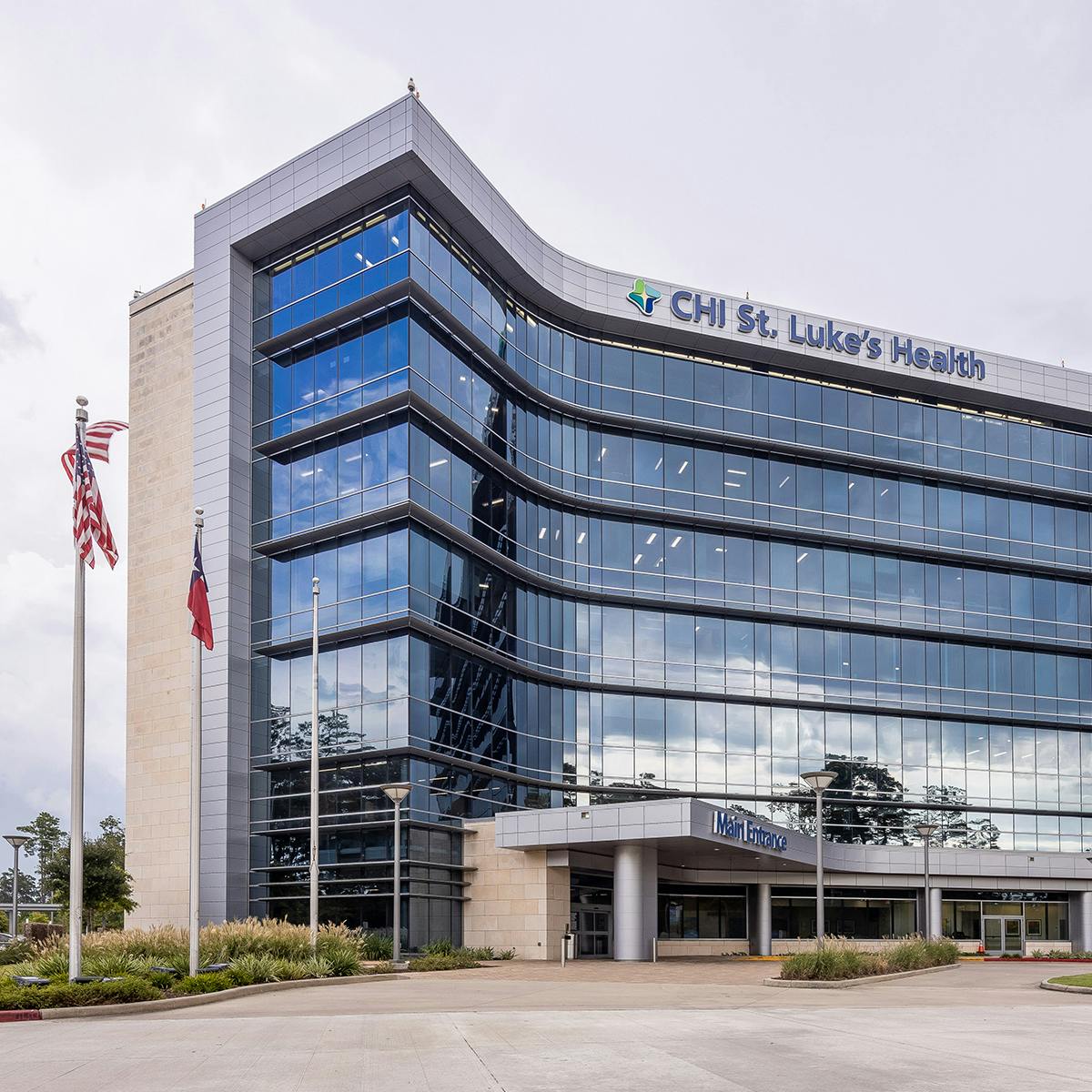 Back to search
Springwoods
Our ear, nose and throat doctors in Spring, TX are Dr. Jeff Chimenti, Dr. Rance Raney, Dr. Jaecel Shah Together with the staff, they are dedicated to providing you with the best possible medical care in the community where you live. Our Spring, TX ENT office is conveniently located on the St Luke's Springwoods Village campus.
Hours:
Monday – Thursday: 8:45am – 5pm
Friday: 8:45am – 4:30pm
---
Allergy
Allergies are when the body's immune system has an adverse reaction to something it has come into contact with. This could be a specific food, medication, or a substance in the environment such as pollen, dust, or grass. Allergies can cause conditions such as environmental allergies, asthma management, hives, and eczema, which our Spring ENT specialists can address.
Environmental Allergy
Immune Deficiency
Asthma Management
Hives and Eczema
Sinus
The sinuses are hollow cavities within the face that are thinly lined with mucus. These small cavities play an important role in helping to humidify the air we breathe and drain mucus. When they become clogged or backed up with mucus, it can lead to infections or pain. Our ENT doctors in Spring, TX can address sinus conditions such as a deviated nasal septum, congestion (nasal blockage), and nasal drainage.
Sinus Infections
Loss of Sense of Taste and Smell
Nasal Fractures
Deviated Nasal Septum
Congestion (Nasal Blockage)
Nasal Drainage
Sleep
The value of sleep is lost on no one. A good night of sleep can affect the type of day you have and impact your mood. A number of factors can cause difficulty sleeping, but in some cases is due to an underlying sleep condition such as snoring or sleep apnea. Our Spring sleep specialists can help diagnose these conditions and guide you to proper treatment.
Ear
Our ears play a pivotal role in helping us hear and keeping us balanced. Recurring infections, pain, or damage can cause long-term problems for the ears. Our Spring ENT specialists see patients who are experiencing dizziness, ear infections, and other ear disorders. They can help guide patients through their treatment options and help them find lasting relief.
Ear Infections
Dizziness
Complicated Ear Disorders
Hearing
Hearing loss can impact your life, making it difficult to converse with friends or enjoy music and tv. Our Spring hearing loss specialists can help patients experiencing any degree of hearing loss. Early detection is important when treating hearing loss, so patients who have noticed changes should visit a provider as soon as possible.
Head & Neck
Like any other part of the body, the head and neck are susceptible to infections and cancer. This can occur in the salivary glands, thyroid, or adenoids. Our Spring clinic is trained to help address these concerns, including head and neck cancers, enlarged lymph nodes, abnormal parathyroid glands, and chronic tonsil and adenoid infections.
Thyroid Masses
Neck Masses
Salivary Glands Masses
Head and Neck Cancers Evaluation and Treatment
Enlarged Lymph Nodes
Abnormal Parathyroid Glands
Chronic Tonsils and Adenoid Infections
Voice & Swallowing
Your voice is an integral part of feeling connected to those around you. When you begin to experience changes in your voice or have noticed it is difficult to speak or swallow, you should visit our Spring office for an evaluation. We can address conditions that include hoarseness, difficulty swallowing, and vocal spasms or tremors.
Vocal Cord Tumors
Vocal Tremors and Spasms
Acid Reflux
Hoarseness
Difficulty Swallowing
Vocal Cord Nodules and Polyps
Facial Plastics
Facial plastic surgery can help patients correct functional issues, restore facial features after injury, and even help refine their features. Our Spring surgeons can help recommend the proper course of treatment to ensure your needs are addressed.
Facial Skin Laxity
Drooping or Sagging Eyelids
Excess Facial Skin
Wrinkles of the Face or Neck
Uneven Nose
Oversized Ears
Undefined or Overdefined Chin
Allergy
Allergies treatments can help reduce your allergy symptoms and even build a tolerance to allergens. Our Spring office provides allergy treatments that include allergy shots, Asensa allergy drops, and a range of testing services. The allergy providers of Texas ENT Specialists are ready to help you find lasting relief.
Allergy Drops
Biologic Testing
Food Allergy Testing
Drug Allergy Testing
Sinus
Sinus treatments can help clear any sinus blockages, opening the nasal passages and allowing air to flow more easily. This is achieved through treatments that include balloon sinuplasty, surgery for nasal polyps and chronic sinusitis, and septoplasty to correct deviated septums. Texas ENT Specialists offers all of these services at our Spring clinic.
Septoplasty Deviated Septum Surgery
Nasal Turbinate Reduction
In-Office CT Imaging
Sleep
Sleep disorders require treatment from a sleep specialist. At our Spring office, you will find several sleep specialists who offer treatments that include CPAP machine prescription and monitoring, sleep apnea surgery, and Inspire, a new sleep apnea treatment.
Evaluation of Sleep Apnea and Snoring
Airlift Procedure for Sleep Apnea
Prescribe and Monitor CPAP
Sleep Apnea Testing
Inspire Procedure
Sleep Apnea Surgery
Ear
Ear treatment requires an experienced provider to diagnose and treat these conditions accurately. At Texas ENT Specialists Spring office, we provide treatments including ear tubes, balance testing, and wax removal to help patients. We also offer a range of surgical procedures to be used when other treatment methods have not succeeded or there has been damage.
Ear Tubes
Ear Hygiene and Wax Removal
Repair of Eardrum Perforation
Balance Testing
Surgery for Chronic Ear Infections
Hearing
Hearing loss is experienced by millions of Americans but is still a condition that is unique to each person. Texas ENT Specialists Spring location understands that no two people experience hearing loss in the same way and ensure that you receive a customized treatment plan that meets your needs. This may include hearing aids, cochlear implants, or a surgery designed to help patients experiencing hearing loss.
Surgery to Repair Hearing
Hearing Aids Dispensing
Hearing Aids Programming and Maintenance
Hearing Testing
Cochlear Implants
Head & Neck
When there is an infection or cancer within the head or neck, it can begin to affect the body and lead to imbalances. These can result in muscle weakness, pain, and fatigue. At Texas ENT Specialist's Spring location, you will find providers who are highly skilled in detecting and treating these conditions. We offer care that includes an evaluation of head and neck cancer, thyroid surgery, and salivary gland surgery to help you get back to the activities you enjoy.
Thyroid Surgery
Parathyroid Surgery
Endoscopic Inspection of the Throat and Voice Box
Salivary Gland Surgery
Tonsillectomy
Adenoidectomy
Head and Neck Cancer Evaluation and Surgery
Voice & Swallowing
Vocal changes often point to an underlying vocal condition. Our Spring ENT specialists are trained to diagnose and treat these conditions through methods that include vocal cord and voice examination, swallowing therapy, and speech therapy. Contact our office for more information on how Texas ENT Specialists can help.
Vocal Cord and Voice Examination
Swallowing Therapy
Speech Therapy
Acid Reflux Testing
Facial Plastics
We offer facial plastic surgery procedures that include facelift, neck lift, and lip augmentation. These services can help patients reduce common signs of aging by eliminating excess skin and targeting fine lines and wrinkles. The surgeons at our Spring location are ready to help you. Contact our office to schedule a consultation.
Facelift
Mini Facelift
Fat Transfer
Brow Lift
Blepharoplasty
Cheek Augmentation
Chin Augmentation
Neck Lift
Rhinoplasty
Otoplasty
Lip Lift
Providers at this location
Reviews
Dr. Chimenti is the best ENT ever!
My special needs son has been going to him for over 15 years. I highly recommend him & his staff.